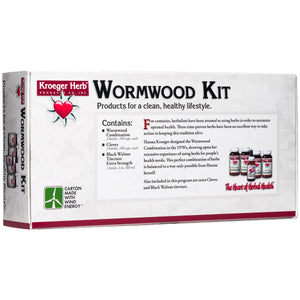 | | |
| --- | --- |
| Manufacturer | Kroeger Herb Products |
| Supply | 33 Days |
| Form | Kit |
Wormwood Kit (Formerly Para Cleanse Kit)
Regular price
$79.99
$0.00
Unit price
per
Supports microorganism resistance.
Directions
Wormwood Combination: Take 2 capsules 3 times daily before meals. Cloves: 1 capsule 3 times daily before meals. Black Walnut Hull Tincture: Shake well. Use 15 drops 3 times a day or as recommended by a health care professional. May be used in a glass of water or directly on back of tongue. Warm water helps evaporate the alcohol.
Additional Dietary Information
A diet high in protein and low in carbohydrates seems to be ideal in treating/preventing parasites.

Add to diet: pumpkin seeds, calmyrna figs (the tiny seeds tear the skin of the worms), garlic, apple cider vinegar, cranberry juice, pomegranates.

Foods to avoid: Raw or undercooked beef, pork, fish and chicken; sugars and carbohydrates, unfiltered mountain water, water chestnuts and watercress, fruits or vegetables that are unwashed or washed in questionable water.
---