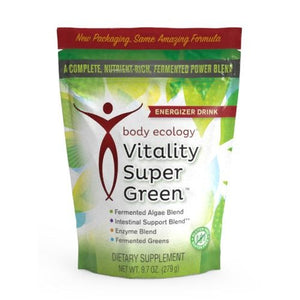 | | |
| --- | --- |
| Manufacturer | Body Ecology |
| Supply | 15-30 Days |
| Form | Powder |
| Potency | P/B |
| Size | 9.7 oz. |
Vitality Super Green
Regular price
$49.99
$0.00
Unit price
per
Vitality Super Green has a powerful blend of energizing, organic, nutrient-rich whole foods designed to balance and revitalize your whole body and nourish your inner ecosystem. Its an excellent source of complete, easily assimilated protein, enzymes, vitamins, minerals, lignans, essential fatty acids and nucleic acids.
Directions
Start your day with Vitality Super Green and take it again as a quick pick-me-up in the afternoon. Simply add 2 scoops (or more) to 8 oz. filtered water or young coconut kefir.
Ingredients
Proprietary blend of:
Intestinal Support Blend 5,729 mg: L- Glutamine, Chicory Root Inulin (fiber), Rice Bran Extract (stabilized anti-oxidant); Flax Seed Fiber, Sunflower Lecithin; Acacia Fiber; Aloe Vera Extract (200:1).
Cereal Grass Blend 1650 mg: Barley Grass Juice, Alfalfa Juice.
Algae blend 1,066 mg: Cracked wall Chlorella, Red Marine Algae, Dulse Powder.
Super Supplement Blend 355 mg: Acerola Extract, Rhodiola Rosea Extract, Bilberry Extract, Grapeseed Extract, Beta 1,3 Glucan (dual standard).
Enzyme Blend 183 mg: Protease, Amylase, Cellulase, Lipase, Glucoamylase, Invertase, Bromelain, Papain, Alpha Galactosidase, Peptidase, Maltase, Pectnase, Phytase, Xylanase, Hemicellulase.
Fermented Algae Blend 166 mg: Spirulina, Astaxanthin, Chlorella, Kelp, Barley Grass, Oat Grass, Alfalfa Grass, Wheat Grass, Rockweed.
Organic Fermented Vegetable Blend 100 mg: Organic Kale, Organic Parsley, Organic Spinach.
Fermented vegetable and algae blends are femented with natural Lactobacillus Acidophilus.
Plus natural vanilla, stevia. Contains NO fillers and NO excipients. Soy free, dairy free, gluten free, non GMO and vegan.
Vitality SuperGreen® formulated by Donna Gates.
---