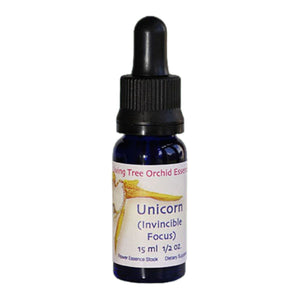 | | |
| --- | --- |
| Manufacturer | Living Tree Orchid Essences |
| Supply | 14 Days |
| Form | Liquid |
| Size | .5 oz. |
Unicorn, Orchid Essence
Regular price
$22.65
$0.00
Unit price
per
Unicorn evokes protective action and unquestioning confidence. Believed to help take a focused, committed and unfailing action. Meet that outer threat not with aggression but with the clarity of a positive outcome. Highly recommended for emergencies, major crisises or when one is truly threatened. This essence helps us to avoid distraction and giving our power away to a source of trouble or potential harm. Clears the energetic pathways of the head and into the brain by opening the Da-zhui point on the 7th cervical vertebra.

Directions
Orally, Take 4 drops sub-lingually, or add 3 drops to water and take twice daily. Topically: add the essence to a cream and apply it as needed, or add 20 drops to a bath. Store away from heat and electrical equipment.

Ingredients
Contains: 50% organic French cognac, water, etheric infusion of Gongora dressleri. Alcohol 20% by volume.

---