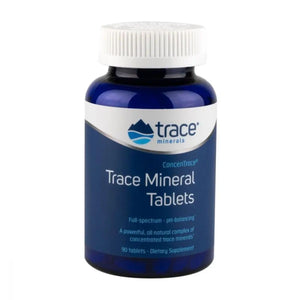 | | |
| --- | --- |
| Manufacturer | Trace Minerals Research |
| Supply | 1-3 Months |
| Form | Tablet |
| Size | 90 |
Trace Mineral Tablets
Regular price
$25.49
$0.00
Unit price
per
It's impossible to underestimate the importance of minerals and trace minerals for the human body. They are the catalysts for all the vitamins and other nutrients your body uses for developing and maintaining good health. ConcenTrace® Trace Mineral Tablets capture the perfect balance of these important minerals.
Directions
Take 1-3 tablets daily. Moderately increased dosages are safe if needed or desired but larger amounts may have a laxative effect.
Ingredients
Naturally occurring varying trace amounts; Bromide, Carbonate, Boron, Calcium, Silicon, Nitrogen, Selenium, Phosphorus, Iodine, Chromium, Manganese, Titanium, Rubidium, Cobalt, Copper, Antimony, Molybdenum, Strontium, Zinc, Nickel, Tungsten, Scandium, Vanadium, Tellurium, Tin, Lanthanum, Yttrium, Silver, Gallium, Bismuth, Zirconium, Cerium, Cesium, Gold, Beryllium, Hafnium, Samarium, Terbium, Europium, Gadolinium, Dysprosium, Thorium, Holmium, Lutetium, Erbium, Ytterbium, Neodymium, Praseodymium, Niobium, Tantalum, Thallium, Rhenium, Indium plus the other elements found in sea water, Alfalfa and Kelp.
Other ingredients: Microcrystalline cellulose, stearic acid, magnesium stearate, hypromellose, croscarmellose sodium, cellulose (coating).
Additional Dietary Information
Drink plenty of water.
---