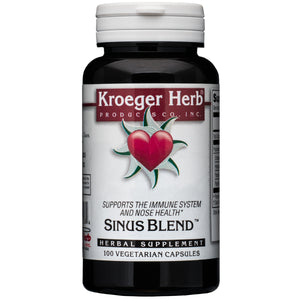 | | |
| --- | --- |
| Manufacturer | Kroeger Herb Products |
| Supply | 16 Days |
| Form | 2 Capsules |
| Potency | 740 mg |
| Size | 100 |
Sinus Blend™ (formerly Stuffy®)
Regular price
$14.99
$0.00
Unit price
per
A special formula of herbs and vitamin-C that can be used any time of the year, although most popular during the fall and winter seasons. Keep your head clear with the sharp bite of horseradish! Supports a healthy immune system.
Directions
Two capsules 3 times daily between meals.
Ingredients
Horseradish, Lettuce, Wood Betony, Peppermint, Vitamin C. Other Ingredients: Vegetarian source capsule.
Additional Dietary Information
Make sure you are taking enough Vitamins A, C and B- Complex. Eliminate dairy products and avoid sugar. If problem is long-term, consider doing a parasite cleanse. Adding black pepper, garlic, horseradish, mustard, onion, radish and turnips to the diet may be helpful.
---