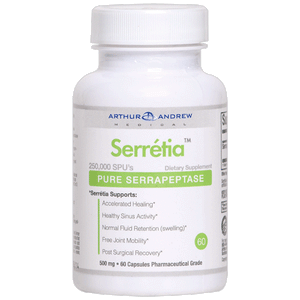 | | |
| --- | --- |
| Manufacturer | Arthur Andrew |
| Supply | 30-60 Days |
| Form | Capsules |
| Potency | 500 mg |
| Size | 60 |
Serretia Pure Serrapeptase
Regular price
$61.99
$0.00
Unit price
per
Serrapeptase is a protein-digesting enzyme that was originally discovered in silkworms. This enzyme has powerful mucolytis (mucus dissolving) properties capable of promoting healthy sinus activity. It also has an inherent ability to digest dead tissue, enabling the enzyme to successfully aid in supporting normal scar tissue and joint mobility, and maintain fluid and natural blood flow throughout the body.
Directions
Suggested Use: Take Serretia with 8oz of water on an empty stomach, or as directed by your healthcare practitioner. Larger amounts may be divided into 2 or 3 servings per day.

Maintenance: 1-2 Capsules per day.

Increased support: 3-4 Capsules per day.

Therapeutic: 4-6 Capsules per day.

Warning: Serrapeptase may thin the blood; consult your physician if you are currently taking anticoagulants.
Ingredients
Serrepeptase (250,000 SPU)

Other ingredients: Cellulose (Acid Armor capsules)

Serretia is free of dairy, gluten, and soy allergens. Contains no artificial colors or preservatives.
---