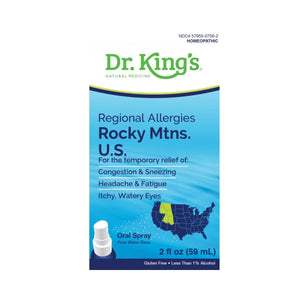 | | |
| --- | --- |
| Manufacturer | King Bio |
| Form | Liquid |
| Potency | 12X, 30X, and LM1 |
| Size | 2 fl. oz. |
Regional Allergies: Rocky Mtns. U.S.
Regular price
$23.99
$0.00
Unit price
per
Supports the body's natural resistance to seasonal irritants common in CO, ID, MT, UT, WY, and NV.
This is an all-natural, homeopathic product. For additional product information and guidance, please contact the manufacturer.
Directions
Directions Initially, depress pump until primed. Hold close to mouth and spray one dose directly into mouth.
Adult Dose 3 pump sprays 3 times per day. Use additionally as needed.
Children 6-12 years 2 pump sprays 3 times per day. Use additionally as needed up to 6 times per day.
Ingredients
Official HPUS Ingredients: Equal volumes of each ingredient in 12X, 30X, and LM1 potencies: Adenosinum cyclophosphoricum, Adrenalinum, Adrenocorticotrophin, Agrimonia eupatoria, Agrostemma githago, Ailanthus glandulosus, Allium cepa, Cortisone aceticum, Cynodon dactylon, Equisetum hyemale, Euphrasia officinalis, Galphimia glauca, Histaminum hydrochloricum, Kali muriaticum, Mucosa nasalis suis, Natrum muriaticum, Platanus, Populus candicans, RNA, Sabadilla, Solidago virgaurea.
Inactive ingredients: bio-energetically enhanced pure water, carya ovata bark extract (hickory), citrus extract, lonicera japonica (honeysuckly), polylysine (natural ferment), steviol glycosides (stevia).
---