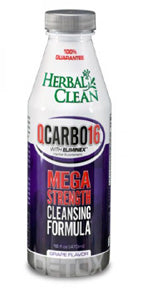 | | |
| --- | --- |
| Manufacturer | Herbal Clean |
| Supply | 1 Day |
| Form | Liquid |
| Size | 16 oz. |
QCarbo16, Mega Strength, Grape Flavor
Regular price
$32.25
$0.00
Unit price
per
Herbal Clean 16 oz QCarbo16 is an easy-to-use cleanser and the #1 detox product on the market today! Cleansing is beneficial prior to any diet and exercise program. It can additionally aide in maintaining a sense of satisfaction and well-being.
Directions
Step 1: Drink the entire contents of the bottle over the course of 30 minutes to an hour. Step 2: after 15 minutes, refill the bottle with water and drink over the course of 30 minutes to an hour. Step 3: Be sure to urinate frequently; this is a part of the elimination process and very important to a successful cleansing program. If you desire, additional consumption of water can be helpful. Some Important Hints for you to keep in mind: - When cleansing the system, it is important to drink as much water as possible on a daily basis. - Do not use any over the counter drugs, large quantities of vitamins, alcohol, acidic liquids such as vinegar or juices, nicotine, caffeine or other unwanted toxins prior to the use of this product. - Do not eat any large meals before using this product.
Ingredients
Riboflavin (Vitamin B2) 20 mg, Proprietary Blend: 7.15g- Creatine Monohydrate, Dandelion Root Extract, Dandelion Leaf Extract, Turmeric Root Extract, Juniper Berry Extract, Echinacea Purpurea Leaf Extract, Ginger Root, Licorice Root Extract, Milk Thistle Seed Extract, Uva Ursi Extract, Ligustrum Berry Extract, Cornsilk Extract, Apple Pectin, Guarana Seed Extract. Other Ingredients: Water, Dextrose, Fructose, Vegetable Glycerine, Citric Acid, Artificial Flavor, Sodium Benzoate, Potassium Sorbate, Malic Acid, Phosphoric Acid, FD & C Red No. 40, FD & C Blue No. 1.
---