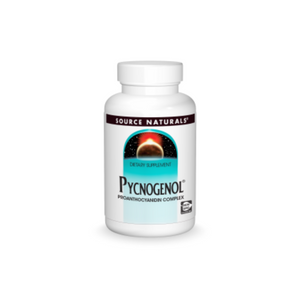 | | |
| --- | --- |
| Manufacturer | Source Naturals |
| Supply | 24 Days |
| Form | 1 Tablet |
| Potency | 25mg |
| Size | 24 |
Pycnogenol, Proanthocyanidin Complex
Regular price
$13.98
$0.00
Unit price
per
Pycnogenol® is a natural plant product made from the bark of the European coastal pine, Pinus maritima. Pycnogenol is rich in proanthocyanidins, a special class of water-soluble antioxidant flavonoids, which are excellent free radical scavengers. Proanthocyanidins are believed to play an important role in maintaining good health.

Directions
1 to 4 tablets daily. To build reserves rapidly, start with 1 tablet per 25 pounds of body weight per day for 7 to 10 days.
Ingredients
French Maritime Pine Bark Extract (Pycnogenol) 25mg Yielding 65% Procyanidins. Other Ingrediants: microcrystalline cellulose, stearic acid, and magnesium stearate.

---