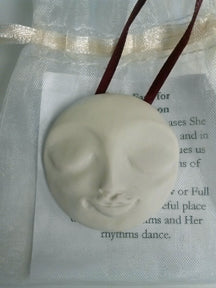 | | |
| --- | --- |
| Manufacturer | Peaceful Moon Faces |
| Form | Clay |
| Size | 1 to 1.5 in. |
Full Moon Peace Face (Large)
Regular price
$17.00
$0.00
Unit price
per
White Full Moon & Garnet.
The Full Moon marks a time of abundance and ripe harvest. Imagine you planted a seed that is now a tree bearing healthy fruit. Garnet nourishes us that we may grow, blossom, and ripen to our fullness like the radiant full moon. The Garnet is placed on pineal & pituitary points welcoming Conscious Creation in your life.
Directions
In Her Full and dark phases She guides the tides on Earth, and in our own bodies. She imbues us with the peaceful rhythms of Nature.
While holding your New or Full Moon, find that peaceful place where your rhythms and Her rhythms dance.
Place on an altar, wear as a necklace, give as a gift, put in your pocket, meditate while holding, hang in a moon-lit window...
---