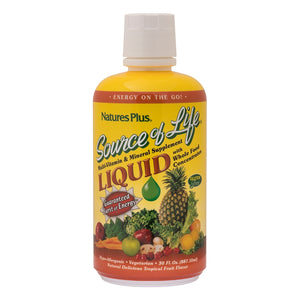 | | |
| --- | --- |
| Manufacturer | Nature's Plus |
| Supply | 30 Servings |
| Form | Liquid |
| Size | 30 oz |
Multi- Vitamin & Mineral, Source of Life Liquid
Regular price
$44.45
$0.00
Unit price
per
Like all Source of Life® multi-vitamins, Source of Life® Liquid fuses essential vitamins, energy-packed phytonutrients and whole food concentrates into a convenient, all natural supplement. This proprietary complex uniquely combines the comprehensive phytonutrient goodness of spirulina, alfalfa leaf juice and barley grass juice with soluble whole food concentrates.
Directions
Shake well. As a dietary supplement take two tablespoons or one capful once daily.
Ingredients
Vitamin A (as palmitate, beta carotene) 10,000 IU, Vitamin C (as ascorbic acid) 500 mg, Vitamin D3 (as cholecalciferol from lichen) 1,000 IU, Vitamin E (as d-alpha tocopheryl acetate) 200 IU, Vitamin K2 (as menaquinone-4, menaquinone-7) 80 mcg,Thiamine (vitamin B1) (as thiamine mononitrate) 25 mg, Riboflavin (vitamin B2) 25 mg, Niacin (as niacinamide) 40 mg, Vitamin B6 (as pyridoxine HCl) 25 mg, Folate (as calcium-L-5-methyltetrahydrofolate) 400 mcg, Vitamin B12 (as methylcobalamin) 1,000 mcg, Biotin 100 mcg, Pantothenic Acid (as calcium pantothenate) 60 mg, Calcium (as citrate) 50 mg, Iron (as gluconate) 4.5 mg, Iodine (as potassium iodide) 150 mcg, Magnesium (as citrate) 25 mg, Zinc (as gluconate) 7.5 mg, Selenium (as amino acid complex) 25 mcg, Copper (as chlorophyllin) 1.5 mg, Manganese (as gluconate) 4 mg, Chromium (as picolinate) 20 mcg, Molybdenum (as aminoate complex) 37.5 mcg, Potassium (as citrate) 50 mg.
Source-70 Whole Food ComplexProprietary soluble whole food complex of prehistoric trace element concentrate, Spirulina (natural source of chlorophyll, ribonucleic acid, deoxyribonucleic acid and carotenoids) 500mg
Citrus Bioflavonoids Complex (from Citrus limon / sinensiswhole fruit) (standardized to 48 mg flavanones and 2 mg flavanols, flavones and related phenolic compounds) 100mg.
Ginseng Root (Korean) (naturally providingginsenosides R [a through h] and F) 50 mg
Inositol 30mg, PABA (para-aminobenzoic acid) 15mg, Choline (as bitartrate) 13mg, Chlorophyll (from spirulina and copper chlorophyllin) 4 mg.
Other ingredients: purified water, crystalline fructose, natural flavors, citric acid, xanthan gum, malic acid, potassium benzoate and potassium sorbate (to preserve freshness), astragalus root, ligustrum berry, schisandra fruit, Echinacea angustifolia root, Irish moss (Chondrus crispus), thyme leaf and rice bran.


---