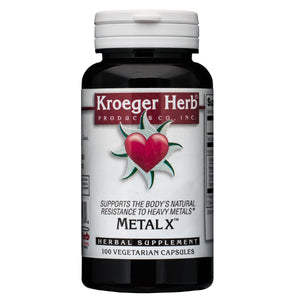 | | |
| --- | --- |
| Manufacturer | Kroeger Herb Products |
| Supply | 33 Days |
| Form | 1 Capsule |
| Potency | 500 mg |
| Size | 100 |
Metal X™ (formerly Metaline™)
Regular price
$14.99
$0.00
Unit price
per
People concerned about maintaining healthy levels of resistance to metals use this formula to keep their bodies in a healthy state. Supports the body's natural resistance to heavy metals.
Directions
One capsule 3 times daily after meals.
Ingredients
Pumpkin Seed, Okra, Rhubarb Root, Capsicum, Peppermint, Dulse. Other Ingredients: Vegetarian source capsule.
Additional Dietary Information
No aluminum cookware, use glass or stainless steel instead. Hanna taught that wheat sprouts will improve detoxification of tissue and protect against heavy metal damage in the body (do not try if you are allergic to wheat/gluten).
---