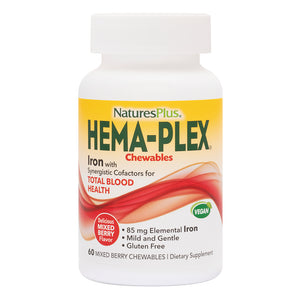 | | |
| --- | --- |
| Manufacturer | Nature's Plus |
| Supply | 20 Days |
| Form | Chewables |
| Size | 60 Chewables |
Hema-Plex
Regular price
$12.45
$0.00
Unit price
per
Each serving of HEMA-PLEX Chewable delivers the same powerful ingredient profile that defines HEMA-PLEX. Delicious, mixed-berry-flavored HEMA-PLEX Chewables are yet again another convenient and effective way to combat iron-poor blood and to quickly improve the health status of millions of customers now suffering from iron-deficiency anemia!
Directions
As a dietary supplement, take three chewables daily.
Ingredients
Vitamin C (as ascorbic acid) 180mg 200%, Vitamin E (as d-alpha tocopheryl acetate 15mg 100%, Thiamine (as thiamine hydrochloride) 2.25mg188% , Riboflavin (B2)2.55mg 196%, Niacin (as niacinamide) 15mg NE 94%, Vitamin B6 (as pyridoxine HCL) 3mg 176%, Folate (as calcium L-5-methylcobalamin) 667mcg 167%, Vitamin B12 (as methylcobalamin 1000mcg 41,667%, Panothenic Acid (as calcium pantothenate) 7.5mg 150%, Calcium (as amino acid chelate/complex) 75mg 6%, Iron (as Ferrous fumarate) 85mg 472%, Zinc (as monomethionnine) 9mg 82%, Selenium (as amino acid complex) 30mcg 55%, Copper (as amino acid chelate) 2mg 222%, Manganese (as amino acid chelate/complex) 4mg 174%. Proanthoplex - Proprietary Proanthocyanidin/Bioflavanoid Complex - Bioflavanoids (From Citrus Limon/Sinensis Whole Fruit), Bilberrry (Vaccinum Myrtillus Fruit), Wild Black Raspberry (Rubus Occidentalis Fruit Seed), Green Tea (Camellia Sinensis), Red Raspberry (Rubus Idaeus Fruit) 45 Mg, Beet - (Beta Vulgaris) 45 Mg, L-Cysteine - (Free Form Amino Acid) 30 Mg. Other Ingredients: Sucrose, fructose, stearic acid, natural flavor (raspberry, cherry), magnesium stearate, natural color (beet juice), organic stevia and silica. Does Not Contain: Gluten.
---