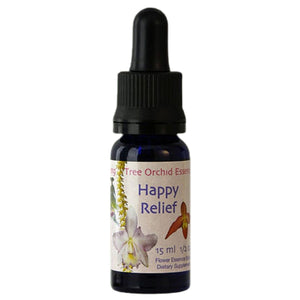 | | |
| --- | --- |
| Manufacturer | Living Tree Orchid Essences |
| Supply | 14 Days |
| Form | Liquid |
| Size | .5 oz. |
Happy Relief, Orchid Essence
Regular price
$22.65
$0.00
Unit price
per
Happy Relief brings a sense of happiness and gentle yet strong vitality. Has the surprising effect of making one feel quietly happy, and at the same time clearing mental/emotional tension and distress. The Baihui (the "place of a hundred gatherings") in Chinese medicine opens to give the head a sense of upward lift. The vaihui point is on the summit of the skull just two fingers width behind the crown chakra. In the Chinese tradition it governs the major acupuncture meridians. A good relief in challenging circumstances.

Directions
Take 3 drops sub-lingually, or add 3 drops to water and take twice daily. Topically: add the essence to a cream and apply it as needed, or add 20 drops to a bath. Store away from heat and electrical equipment.

Ingredients
Contains: 50 % organic French cognac, water, etheric infusion of Laelicocattleya Angel Love, Dendrochilum magnum, Nanodes medusae, Phramipedium Don Wimbur. Alcohol 20% by volume.

---