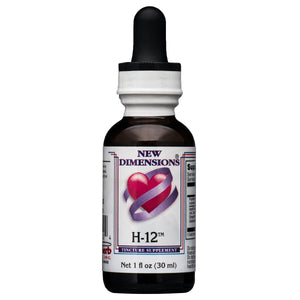 | | |
| --- | --- |
| Manufacturer | Kroeger Herb Products |
| Supply | 2 Weeks |
| Form | Liquid |
| Potency | 1:5 Ratio |
| Size | 1 oz. |
H-12 Tincture, New Dimensions®
Regular price
$11.99
$0.00
Unit price
per
One of Hanna's master formulas. The synergy of ingredients in this fantastic tonic makes its uses limitless. Considered by many to be Hanna's greatest formula.
Directions
Shake well. Use 15 drops 3 times a day or as recommended by a health care professional. May be used in a glass of water or directly on back of tongue. Warm water helps evaporate the alcohol.
Ingredients
Proprietary extract blend in alcohol (40%) and distilled water: Apple Tree (Pyrus malus) bark, Calamus root, Burdock root, Tormentil root, Angelica root, Wild Cherry bark, Chinese Rhubarb root**, Gentian root, Peach bark**, Cascara sagrada bark**, Nutmeg seed and Myrrh resin. 38 drops equals 450 mg. **Notice: Do not use if you have abdominal pain or diarrhea. Discontinue use in the event of watery stools. Do not exceed recommended dose. Not for long- term use. Keep out of reach of children. Do not use during pregnancy or when nursing unless recommended by your health care practitioner.
---