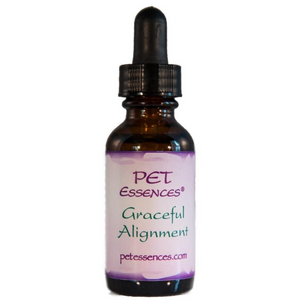 | | |
| --- | --- |
| Manufacturer | Energetic Essences |
| Form | Liquid |
| Size | 1 oz |
Graceful Alignment Pet Essence
Regular price
$17.99
$0.00
Unit price
per
Our GRACEFUL ALIGHMENT formula is available to help pets get back on their feet and deal with the emotional aspects of injury or surgery. For animals who are clumsy, awkward, stumble or seem out of touch with their feet or legs. It aligns the subtle bodies.
Directions
Put several drops directly in the mouth or on the skin 4x a day.
Pet Essences can be put in the food, water bowl, treats, bath or bedding.
To make a treatment bottle add several drops from the stock bottle to a one ounce dropper or misting bottle.
Ingredients
Flower essences of Jacaranda, Filiree, Daffodil and other flowers in a proprietary formula, water and 20% brandy.
---