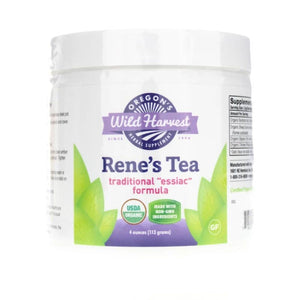 | | |
| --- | --- |
| Manufacturer | Oregon's Wild Harvest |
| Supply | 2-3 Weeks |
| Form | Loose Tea |
| Size | 4 oz. |
Essiac, Rene's Tea, Traditional Formula
Regular price
$19.95
$0.00
Unit price
per
A traditional Native American formula used to maintain normal blood and support overall optimal health.
Directions
1. Bring one-half gallon fresh spring water or distilled water to a boil in a covered stainless steel pot. 2. Add 2 oz. (one-half of the 4 oz. container) of tea, stir with a stainless steel utensil and cover. 3. Bring to a boil and simmer for 10 minutes. 4. Remove from heat and stir. Cover and let sit for 12 hours. 5. Stir, reheat until it almost boils (DO NOT MICROWAVE) and remove from heat. 6. Using stainless steel utensils, strain through a fine mess strainer. Funnel liquid into clean amber glass bottles while hot. Tighten caps after cooling. Refrigerate. The concentrate lasts for two weeks. DIRECTIONS FOR USE: After initial preparation, shake herbal tea concentrate to mix well. Boil 4 ounces of fresh spring water or distilled water. Add 4 ounces of prepared tea concentrate to water. Drink once a day on an empty stomach, preferably before bedtime. Drink warm or cold. Note: do not use aluminum or copper pot, strainers or utensils when preparing tea.CONTRAINDICATIONS: Individuals with a history of kidney stones should use this tea cautiously. Discontinue use in the event of diarrhea or water stools. Keep out of reach of children. Do not use if pregnant or nursing. Discontinue use if unusual symptoms occur.
Ingredients
Organic Burdock root (Arctium lappa), Organic Sheep Sorrel (Rumex acetosella), Organic Slippery Elm Bark (Ulmus fulva), Organic Chinese Rhubarb Root (Rheum sp.).
---