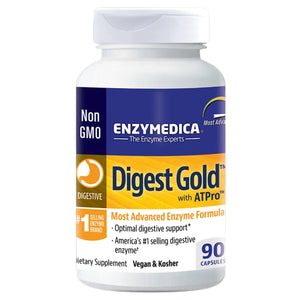 | | |
| --- | --- |
| Manufacturer | Enzymedica |
| Supply | 30 Days |
| Form | 1 Capsule |
| Size | 90 |
Digest Gold with ATPro
Regular price
$53.49
$0.00
Unit price
per
Digest Gold represents the most effective enzyme formula on the market, with enzymes for protein, fat, carbohydrate and fiber digestion. Formulated with synergistic ingredients to promote optimal digestion, one capsule of Digest Gold per meal is typically sufficient to maintain healthy digestion. Featuring Enzymedica's Thera-blend technology, the enzymes in Digest Gold are effective throughout the entire digestive system. In laboratory tests evaluating digestive efficiency and time, Enzymedica's Thera-blend proved 3X stronger and 6X faster than competing products, providing speedy support.
Directions
Take 1 capsule at the beginning of each meal. More may be taken as needed. Safe for children.
Ingredients
Amylase, Protease, Glucoamylase, ATPro (ATP, Magnesium citrate, Phytase, CoQ10), Alpha Galactosidase, Cellulase, Lipase, Lactase, Beta Glucanase, Maltase, Xylanase, Invertase, Pectinase (with Phytase), Hemicellulase.

Other Ingredients: Vegetarian Capsule (cellulose, water).
---