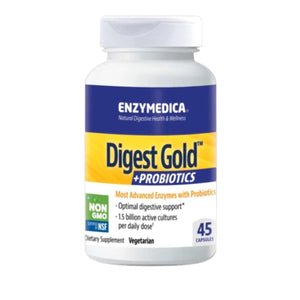 | | |
| --- | --- |
| Manufacturer | Enzymedica |
| Supply | 30 Days |
| Form | 1 Capsule |
| Size | 90 |
Digest Gold + Probiotics
Regular price
$62.99
$0.00
Unit price
per
Digest Gold + Probiotics combines Enzymedica's award winning digestive enzyme formula with 500 million cultures of specially coated (TherActive) probiotics. This delivery system is not an encapsulation process--it is a coating that allows for maximum performance and preservation of probiotics. Superior to standard time release mechanisms, TherActive delivery ensures release in the alkaline pH of the lower intestine, guaranteeing potency, delivering healthy bacteria into the intestinal tract for optimal benefit.
Directions
Take 1 capsule with each meal. When taken 3 times daily, an individual receives 1.5 Billion active cultures. More may be taken as needed. Safe for children.
Ingredients
Amylase, Protease, Glucoamylase, Alpha Galactosidase, Cellulase, Lipase, Lactase, Beta Glucanase, Maltase, Xylanase, Pectinase (with Phytase), Invertase, Hemicellulase.

Probiotic Blend: Bacillus subtilis, L. rhamnosus, L. casei, L. acidophilus, L. plantarum, L. bulgaicus, L. salivarius, L. paracasei.

Other Ingredients: 100% Vegetarian Capsule (cellulose, water).
---