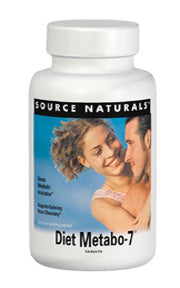 | | |
| --- | --- |
| Manufacturer | Source Naturals |
| Supply | 15-45 days |
| Form | 1 tablet |
| Size | 45 |
Diet-Metabo 7
Regular price
$15.98
$0.00
Unit price
per
Source Naturals Diet-Metabo-7™ supports seven major body systems involved in healthy and successful weight loss, without the over-stimulation associated with other diet products. It contains effective and naturally-occurring metabolic activators and neurotransmitters for a balanced approach to weight loss when used in conjunction with the enclosed Maximum Metabolism Weight Loss Plan™.
Directions
Take 1 tablet three times daily before each meal. Begin with 1 tablet per day to assess personal tolerance. Avoid taking before bedtime.
Ingredients
Vitamin C (as ascorbic acid) 26 mg, Niacinamide 10 mg, Vitamin B-6 (as pyridoxine HCl) 10 mg, Pantothenic Acid (as calcium-D-pantothenate) 33 mg, Iodine (as potassium iodide) 33 mcg, Chromium (as chromium polynicotinate [ChromeMate®]) & picolinate) 133 mcg, Potassium (as potassium citrate) 6 mg, Guarana Seed Extract Yielding 82 mg of caffeine 373 mg, Phenylalanine (as L- & DL-phenylalanine) 164 mg, GABA (gamma-aminobutyric acid) 133 mg, Gymnema Leaf Extract (25% gymnemic acid) 133 mg, Yerba Mate Leaf Extract Yielding 6 mg of caffeine 83 mg, Glutamine 66 mg, Acetyl L-Carnitine HCI 50 mg, L-Tyrosine 33 mg, Horse Chestnut Seed Extract Yielding 4 mg Aescin 23 mg, Dandelion Whole Plant/Root Extract 20 mg, Ginkgo Leaf Extract (24% flavone glycosides & 6% terpene lactones) 10 mg, Ginger Root 10 mg,L Cysteine 10 mg, Aloe Vera Leaf Concentrate 10 mg, Gentian Root Extract 10 mg, Guggul Extract (10% guggulsterones) 10 mg, Bupleurum Root Extract 5 mg, Green Tea Leaf Extract Yielding 2 mg of caffeine 4 mg, Black Pepper Fruit Extract (BioPerine®) 1 mg.
Other ingredients: stearic acid, modified cellulose gum, and silica. Contains wheat.
---