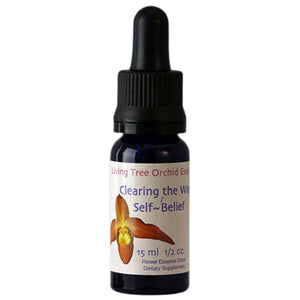 | | |
| --- | --- |
| Manufacturer | Living Tree Orchid Essences |
| Supply | 14 Days |
| Form | Liquid |
| Size | .5 oz. |
Clearing The Way/ Self Belief, Orchid Essence
Regular price
$22.65
$0.00
Unit price
per
Clearing the Way-Self Belief serves to strengthen one's belief in one's own inner and outer spiritual resources, and one's ability to move forward with projects and goals. A wonderful "can do" essence. This essence helps relax tension in the 8th chakra, a result of trying too hard to be perfect and stay in control of everything in our lives.

Directions
Take 3 drops sub-lingually, or add 3 drops to water and take twice daily. Topically: add the essence to a cream and apply it as needed, or add 20 drops to a bath. Store away from heat and electrical equipment.

Ingredients
Contains: 50% organic French cognac, water, etheric infusion of Phragmipedium Don Wimber.

---