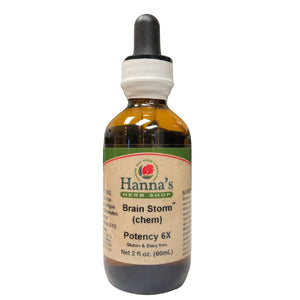 | | |
| --- | --- |
| Manufacturer | Hanna's |
| Supply | 4 Weeks |
| Form | Liquid |
| Potency | 6X |
| Size | 2 oz. |
Brain Storm (chem), Vibropathic™ 2oz
Regular price
$29.99
$0.00
Unit price
per
This product is a natural, homeopathic product that Hanna Kroeger used to help keep your system healthy. Please do your own research or consult a health practitioner to see if this product is right for you.
Directions
Unless otherwise directed by a health care professional, adults take 1 dropperful (15 drops) directly under the tongue (Children 6-12 take half the adult dose). Take 3 times daily, at least 20 minutes before or after meals or brushing teeth.
Ingredients
Distilled water (90%), organic cane alcohol **Electro magnetically attuned vibrational remedies anti- aspartame, MSG, methanol, aspartic acid, phenylalanine, & glutamic acid in a base of Mi Aura 6x potency.
Additional Dietary Information
Avoid MSG and food additives. Eat organic when possible. Make sure to feed the brain and nervous system with good omega oils and lecithin.
---