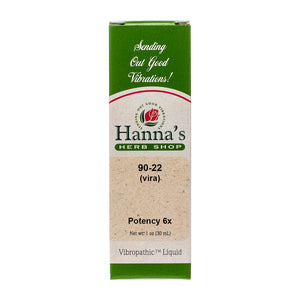 | | |
| --- | --- |
| Manufacturer | Hanna's |
| Supply | 2 Weeks |
| Form | Liquid |
| Potency | 6X |
| Size | 1 oz. |
90-22 (vira), Vibropathic™ 1oz
Regular price
$15.99
$0.00
Unit price
per
This product is a natural, homeopathic product that Hanna Kroeger used to help keep your system healthy. Please do your own research or consult a health practitioner to see if this product is right for you.
Directions
Sublingual administration. Unless otherwise directed, adults measure 15-30 drops (1/2 to 1 dropperful) placed directly under tongue, or dilute in 2 oz. distilled water (children 6-12 take half the adult dose). Take 3 times daily when at least 20 minutes before or after eating, brushing, or drinking anything other than water. Store in a cool, dry place. Keep away from electronics, magnets, and aromatics.
Ingredients
Distilled water (90%) and organic cane alcohol (food grade, USP) **Electro magnetically attuned to a specific frequency, 6x potency.
Additional Dietary Information
X 40 Kit (vira), VYR Defense herbal combination, Folic acid.
---