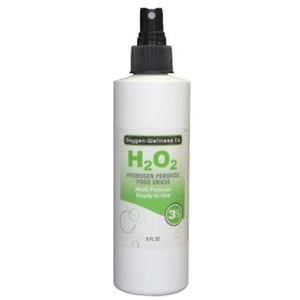 | | |
| --- | --- |
| Manufacturer | OW & Company |
| Form | liquid |
| Size | 8 fl. oz. |
3% Hydrogen Peroxide Food Grade
Regular price
$8.45
$0.00
Unit price
per
NEW 3%  Hydrogen Peroxide 8 fl oz Spray. This 3% product is made from 35% Food Grade Hydrogen Peroxide and filtered & distilled water. This product cannot be shipped internationally. There are no stabilizers or heavy metal toxins. In a convenient fine mist spray bottle. The uses are endless:

    Oral Hygiene for People and Pets. Kills bacteria and helps to whiten teeth.
    Skin just spray on fungal, viral or bacterial infections.
    Kitchen and Bathroom: Disinfect and brighten counter tops, reduce germs on handles and door knobs.
    Pretreat laundry stains excellent on blood.
    Mist house Plants to help absord nutrients for healthier plants.

Directions
Oral Hygiene-People and Pets: Spray into mouth and brush to reduce Bacteria and Whiten Teeth. Skin: Spray or swab on areas of skin affected by Fungal, Viral or Bacterial Infections to reduce symptoms. First Aid: Cuts and Abrasions, spray or swab on affected area to disinfect. If swallowed, drink plenty of water and call you physician immediately. Kitchen and Bathroom: Disinfect and brighten countertop surfaces. Reduce germs on handles and door knobs. add 2 ox. to Dishwasher load for sanitized dishes. Laundry: Use as a Pre-Treat Spot Remover. Excellent to remove blood. House Plants: Mist plants to help absorb the nutrients required for healthier plants.
Ingredients
3% Aqueous Solution of Food Grade Hydrogen Peroxide
---