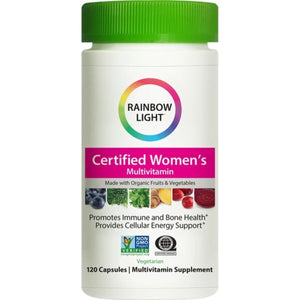 | | |
| --- | --- |
| Manufacturer | Rainbow Light |
| Supply | 30 days |
| Form | 4 Capsules |
| Size | 120 |
Certified Organics Women's Multivitamin on sale!
Regular price
$36.49
Sale price
$41.49
Unit price
per
Support a strong state of health with Certified Organics® Women's Multivitamin, a supplement that's rich in customized botanical blends to maintain core body systems for lasting performance, vitality, and health. This comprehensive, food-based formula contains optimal potencies of nourishing certified organic whole foods such as spirulina, acai berry, pomegranate, beet, and kale, as well as organic, adaptogenic herbs including American ginseng, angelica and green tea to nourish the female system and maintain energy in an easy-to-swallow vegetarian capsule. Safe for those with common food allergies. Certified Organics® Women's Multivitamin is guaranteed to be free of gluten, soy, yeast, milk, eggs, nuts, fish and shellfish. This formula is also sugar-free, lactose-free and 100% natural, containing no artificial colors, flavors, sweeteners, preservatives or additives. Certified Organic by Quality Assurance International (QAI).
Directions
4 capsules daily, with or between meals, may be sprinkled on food.
Ingredients
Vitamin A (as Beta-Carotene) 375 mcg, Vitamin C (as Ascorbic Acid) 60 mg, Vitamin D (as D3 Cholecalciferol) 25 mcg, Vitamin E (as d-alpha Tocopheryl Succinate) 20 mg, Vitamin B-1 (as Thiamin Mononitrate) 25 mg, Riboflavin (Vitamin B-2) 25 mg, Niacin (as Niacinamide) 30mg, Vitamin B-6 (as Pyridoxine) 20 mg, Folate (Folic Acid) 800 mcg, Vitamin B-12 (as Methylcobalamin) 67 mcg, Biotin 500 mcg, Pantothenic Acid (as Calcium Pantothenate)10 mg, Iron (as Amino Acid Chelate) 4 mg, Iodine (from Kelp) 75 mcg, Zinc (as Citrate) 5 mg, Selenium (as Selenomethionine) 50 mcg, Copper (as Amino Acid Chelate) .5 mg, Manganese (as Citrate) 1 mg, Chromium (as Aminonicotinate) 150 mcg, Molybdenum (as Amino Acid Chelate) , 75 mcg. Organic Antioxidant Fruit and Vegetable Blend 1,056 mg: Organic Spirulina, Organic Açai Berry, Organic lycium fruit extract, Organic Pomegranate [fruit] 8:1 Extract, Organic Blueberry, Organic Broccoli, Organic Kale, Organic Beet. Digestion & Absorption Enhancing Blend 674 mg: Organic Inulin [Agave], Protease (1,622 HUT), (Amylase (563 DU), Lipase (9 FIP), Cellulase (7 CU), ProbioActive™ (Bacillus coagulans) (25,000,000 CFU) Organic Strength and Energy Blend 320mg: Organic Rhodiola (root) Extract, OrganicDong Quai (root) Extract, Organic Green Tea [leaf] Extract, Organic Mountain Cranberry, Organic Red Clover [flower & leaf] Extract Organic Liver Support Blend 124mg: Organic Milk Thistle [seed] Extract, Organic Artichoke [leaf] Extract, Organic Ginger [root Extract. Other Ingredients: organic brown rice concentrate, Vegetarian Capsule: Vegetable polysaccharide.
---